One of two covers features ISABELLE OLSSON, arguably one of the most powerful Scandinavian designers today, responsible for all hardwear design at Google. We visit Isabelle in her San Francisco home, where she talks about "rehearsing the future".
Read the story online here, and pre-order the Isabelle Olsson cover here.
The other cover portrays JACOB FELLÄNDER, whose art installations blur the lines between photography, fashion, music, and virtual and augmented reality. For one year, we've followed Jacob in quest to create his biggest work yet.
Sign up for our newsletter to catch the piece when it hits the web, and pre-order his cover here.
"Welcome to the great tech infusion"
Konrad Olsson, our editor in chief, shares an editor's letter on the work behind issue 2, and how our message of intersecting lifestyle and technology is stronger than ever.
Read the letter here.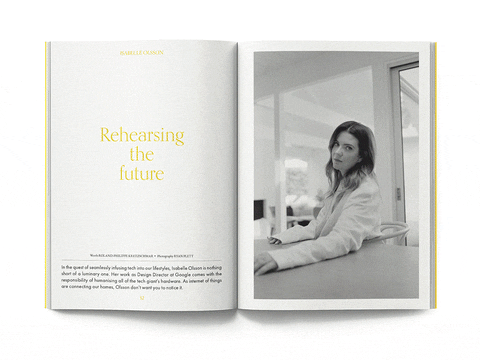 The issue features two major specials. One is about the innovations that are changing our everyday life: nano textiles, solar panels, air purifiers, meditation booths, membership-based clothing brands, among much more.
The other focuses on the exponential transformation in mobility, with everything from electric airplanes and self-driving trucks, to hyperloops, and autonomous ferries.
Also: interviews with Susanne Najafi, Emma Ridderstad, Robin Douglas Westling, Sofie Allert, Jacob Mühlrad, Alexander Wessely, among many others.